Technology Integration FOBISIA JAWS
Date: Friday 1st and Saturday 2nd May 2015
Venue: Harrow International School
Cost: 2,000b (inclusive of transport to and from hotel, lunch, snack, refreshment and dinner on Friday evening)
Registration Dateline: Friday 10th April 2015
Contact Person: chris_r@harrowschool.ac.th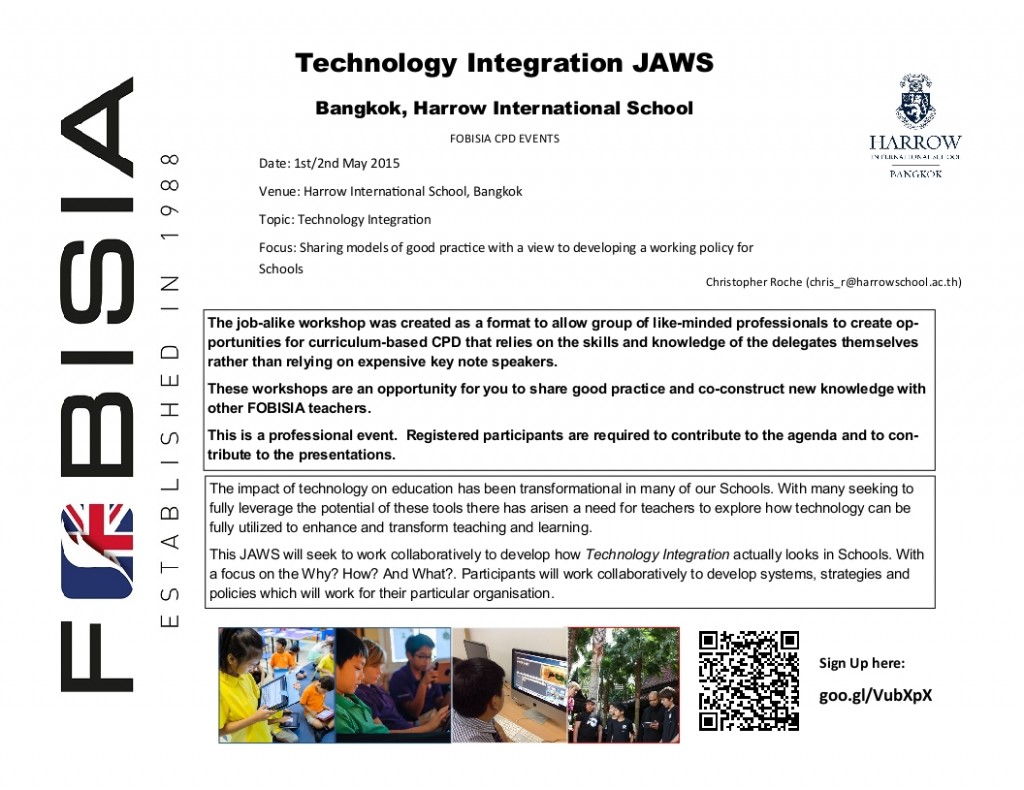 Topic: Technology Integration
Focus: Sharing models of good practice with a view to developing a working policy for Schools
The job-alike workshop was created as a format to allow group of like-minded professionals to create opportunities for curriculum-based CPD that relies on the skills and knowledge of the delegates themselves rather than relying on expensive key note speakers.
These workshops are an opportunity for you to share good practice and co-construct new knowledge with other FOBISIA teachers. This is a professional event. Registered participants are required to contribute to the agenda and to contribute to the presentations.
The impact of technology on education has been transformational in many of our Schools. With many seeking to fully leverage the potential of these tools there has arisen a need for teachers to explore how technology can be fully utilized to enhance and transform teaching and learning.
This JAWS will seek to work collaboratively to develop how Technology Integration actually looks in Schools. With a focus on the Why? How? And What?. Participants will work collaboratively to develop systems, strategies and policies which will work for their particular organisation.