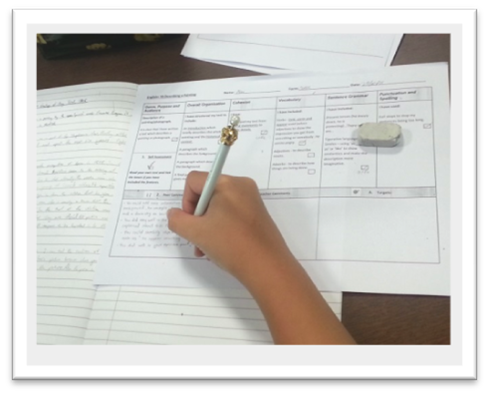 During the past couple of years we have been developing a new assessment framework – The Genre-Map Assessment – which explicitly promotes teacher and student engagement with key language features across a range of school-based, academic writing genres. This framework has been successfully implemented within the Year 9 English Plus Programme and is also being used in collaboration with the History Department in Key Stage 3 mainstream classes.
One important aspect of the Genre Map Assessment is that it strongly encourages teachers to backwards plan from a final assessment task. One of the most efficient and thorough ways this reverse planning can be achieved is through the writing of a model text. This allows teachers to experience the full process of text construction which is expected of the students. It also ensures that salient language features within a particular genre are clearly identified and integrated into the curriculum unit of work which leads up to the final task.
Perhaps more importantly, it offers our students access to the notion of how language actually works to make meaning in context, as well as developing a shared meta-language (the language to talk about language), based on crucial elements, such as overall organisation, cohesion and sentence grammar. Students are therefore able to discuss successes and areas for development in their own, and their peers, academic writing with more confidence and precision.
The Genre-Map Assessment was originally based upon Professor Pauline Gibbon's Question Framework for Assessing Writing (Gibbons, 2009). It was a privilege, therefore, to present and discuss the adapted framework with her during her recent consultation visit to Shrewsbury.
Professor Gibbons was kind enough to offer some of her thoughts on the framework and ways in which she feels its use may benefit English language learners:
"School-aged English language learners who are studying through English are required to write a wide range of subject-based genres or text types, and generally these increase in abstraction and complexity as students move through school. For each genre, students will need to be familiar with the following:
– the purpose of the particular genre,
– how ideas are organised in the subject,
– the kinds of discourse connectives needed to organise these ideas,
– the typical grammatical structures that are typical of the particular genre,
– the subject specific vocabulary to represent key concepts.
Teachers need to model, talk about and co-construct each new genre before students are expected to write it by themselves. This kind of explicit teaching occurs before students write: scaffolding prepares rather than repairs. This is essential for all students, but is especially important for English language learners, who are writing in a language in which they do not yet have full proficiency.
Once students are able to write a particular type of text alone, Lee's material provides an excellent framework that will help to remind them about how a text needs to be written as they are writing it. In addition, after the writing is completed, it can be used as a framework for student self-assessment or peer assessment.
I especially like the focus that is given to the nature of the feedback that students can give their peers. One activity, for example, demonstrates the difference between empty phrases such as "good work" (which gives the writer no useful understanding of why it is 'good'), and those that draw attention to specific aspects of the writing, such as, "I like the way that you have added extra information…to your main points"; "You use good linking words such as…"  
An example of a group task to decide on the most helpful peer comments related to the assessed task.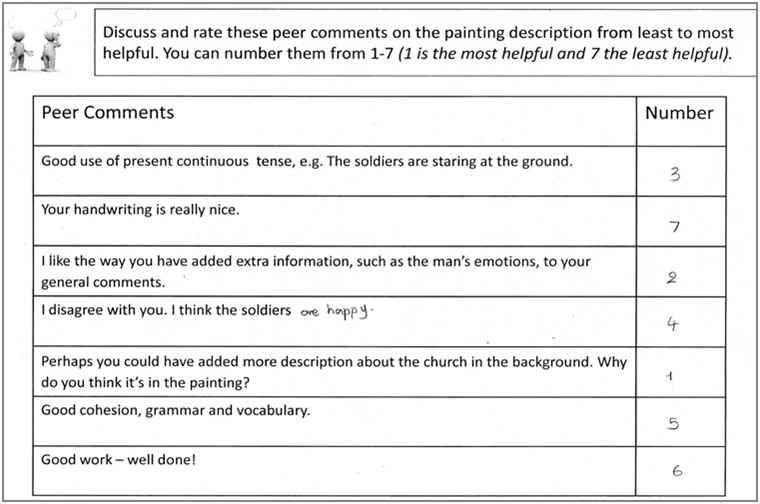 I also see an important use for the framework in helping students to focus on sentence-based aspects of writing, i.e. aspects of traditional 'grammar' such as tense, subject-verb agreement, word order etc. (see the sorts of questions under Sentence Grammar in the frameworks). Many language learners, even when they reach high levels of fluency, (and to the ongoing frustration of their teachers!) continue to make basic and repetitive errors, especially when they write. These are the sorts of errors students are usually well able to correct for themselves once they are pointed out. However, such grammar knowledge often remains 'inert' in the brain until and unless it is employed by learners in real contexts of use.
A presentation slide which indicates how the most helpful comments from the previous activity relate directly to the assessment criteria.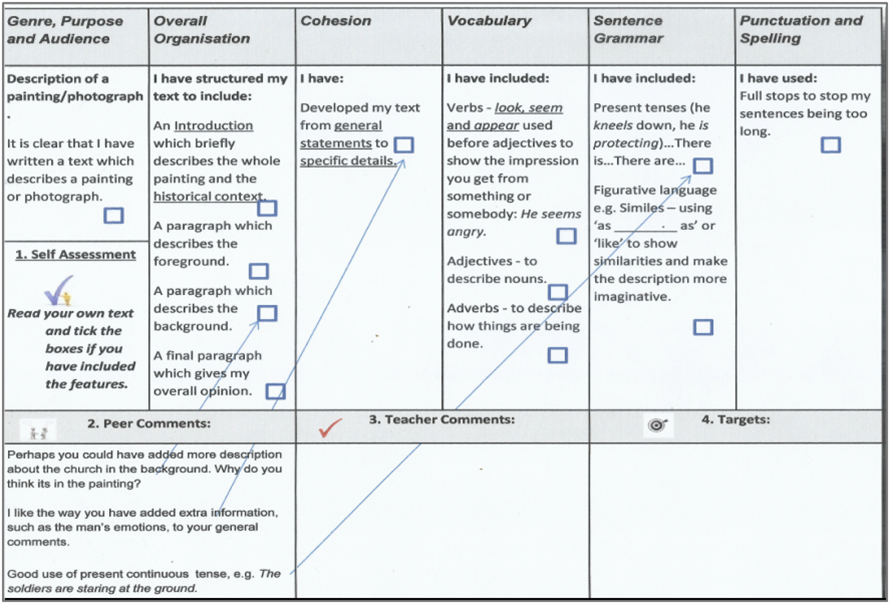 Making students 'mindful' of the language they use through this self-assessment tool, especially in written contexts, helps develop student autonomy and awareness of the language they use, in a way that constant teacher-correction of grammar may not. It also provides guidance to students about how to edit and reflect on their work, mirroring what effective writers do."
  An example of a group task to decide on the most helpful peer comments related to the assessed task.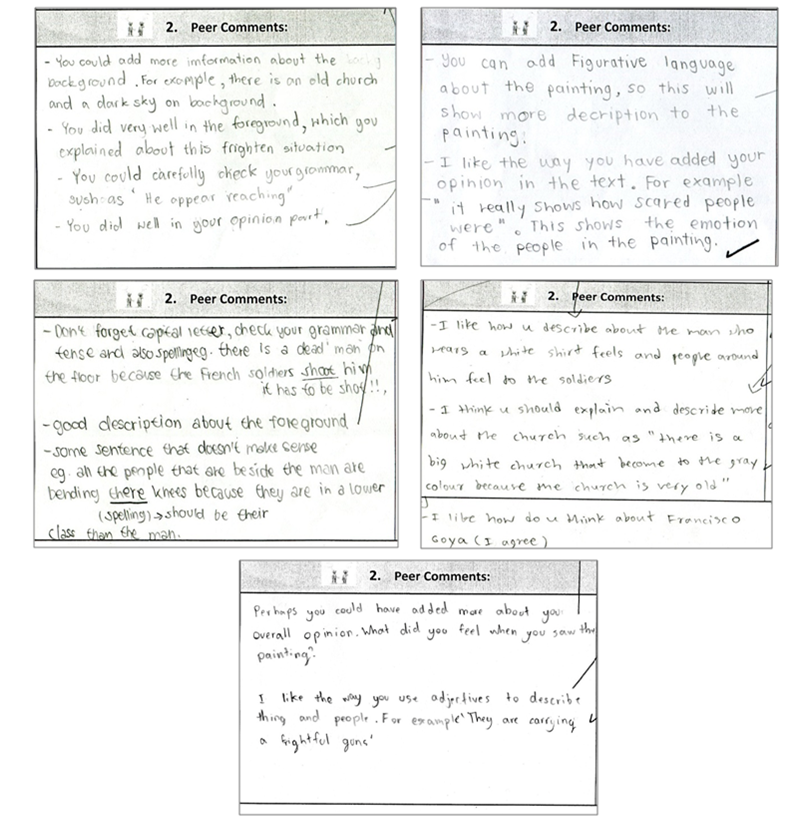 Examples of completed second drafts written by English Plus students after focused feedback. The texts include key language features outlined in the Genre Map.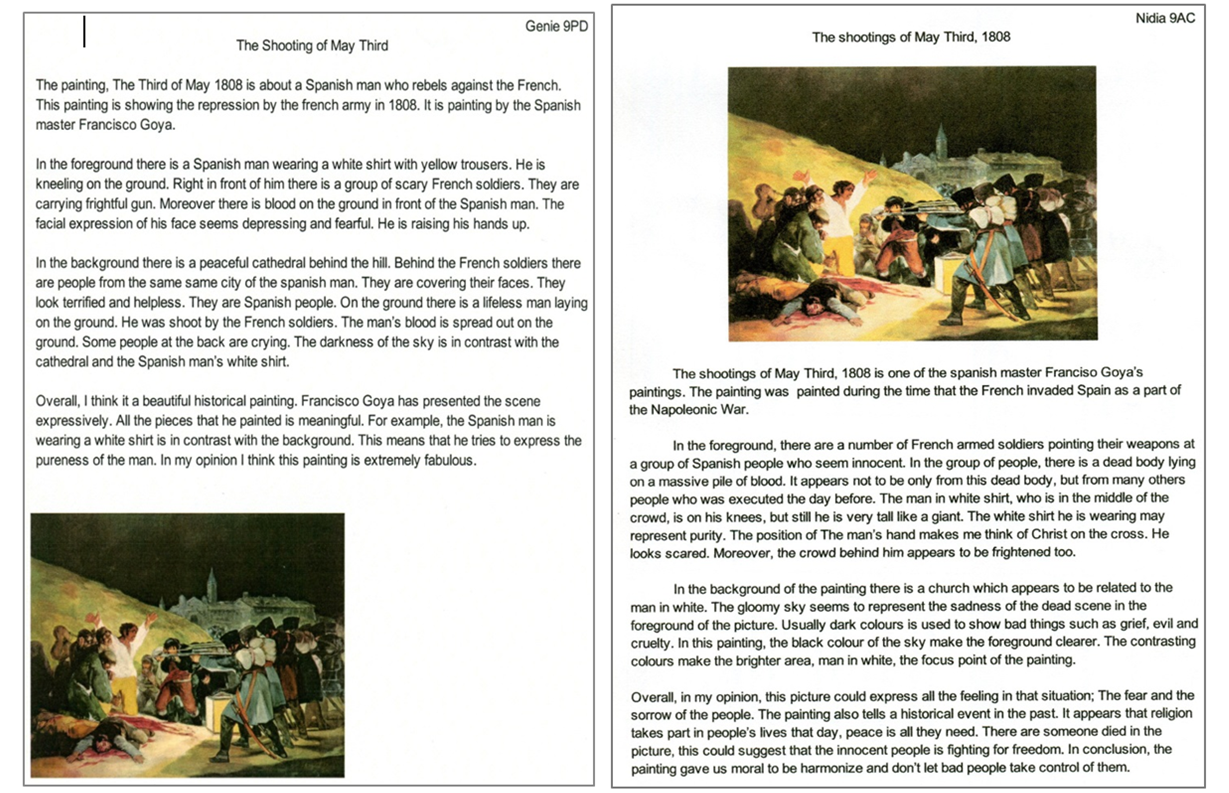 Lee McKernan