Embedding Formative Assessment
Facilitated by: Professor Dylan Wiliam, PhD
Target Audience
– K-12 Teachers
– Curriculum
Supervisors
– Teacher Leaders
– Teacher Trainers
Course Leader
Professor Dylan Wiliam, PhD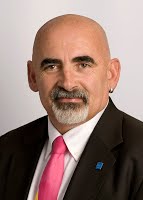 Date/Time
Sept 21 – 22, 2015
Sept 21: 8.30 – 16.00
Sept 22: 8.30 – 15.00
Venue Exact venue to be confirmed
Chiangmai, Thailand
Workshop Overview
There is now a large and growing evidence base that helping teachers develop their use of minute-to-minute and day-by-day assessment is one of, if not the most powerful way to improve student learning. However, adopting formative assessment, or assessment for learning as it is sometimes called, involves far more than adding a few "quick fixes" to teachers' classroom repertoires. It involves a fundamental shift in focus, from what the teacher is putting in to the process to what the students are getting out of it.
In this interactive two-day workshop, participants will learn:
Why we need to increase educational achievement, what's been tried, and why it hasn't worked;
Why formative assessment needs to be the priority for every school;
What formative assessment is (and isn't);
Practical techniques for implementing formative assessment; and
How to sustain the development of formative assessment with teacher learning communities.
Workshop Facilitator
Dr. Dylan Wiliam is Emeritus Professor of Educational Assessment at the Institute of Education, University of London where, from 2006 to 2010 he was its Deputy Director. In a varied career, he has taught in urban public schools, directed a large-scale testing program, and served a number of roles in university administration, including Dean of a School of Education.
His recent work has focused on the use of assessment to support learning . He was the co-author, with Paul Black, of a major review of the research evidence on formative assessment published in 1998 and has subsequently worked with many groups of teachers, in both the UK and the USA, on developing formative assessment practices.
Workshop Objectives
Participants will learn what kinds of formative assessment have the biggest impact on student achievement and how they can be implemented in every classroom.
Specifically, participants will:
Understand why a focus on minute to minute and day by day assessment for learning must be a priority for every school.
Learn about the five key strategies of assessment for learning, together with thirty practical techniques that teachers can use in their classrooms
Understand how to support colleagues in developing their practice of assessment for learning.
Methodology
The workshop will use a variety of techniques including formal presentation, small group discussion, and a variety of activities that model the use of effective formative assessment in the classroom.
Workshop Agenda
Day 1
Session 1: Formative assessment: why, what and how
Session 2: Sharing learning intentions
Session 3: Eliciting evidence
Day 2
Session 1: Feedback
Session 2: Activating students—as learning resources and as owners of their learning
Session 3: Sustaining teacher learning with teacher learning communities
Workshop Fee
Early Bird (Register by February 28, 2015)
Course fee: USD 652/Baht 21,500 per participant
Regular (Register by April 24, 2015 )
Course fee: USD 710/Baht 23,430 per participant
To Register
Step 1: Fill out the Workshop Reservation Form (below).
Step 2: Our office will send you/your coordinating staff the invoice upon receipt of the form.
Step 3: You/your coordinating staff will submit the Payment Completion Form after making the payment
Contact Information
Workshop Coordinator: Mr. Navin Pawa
E-mail: navin@ksithailand.com
Phone (Thailand): 081 701 6843; 081 846 5770
(replace '0' with '66' for international calls)