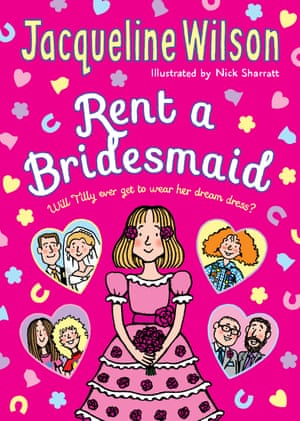 Rent a Bridesmaid by Jacqueline Wilson
This tale is about friendship (and confetti)! Tilly can't believe it when her best friend Matty is asked to be a bridesmaid. In Tilly's favourite daydream, she's kitted out in the most beautiful bridesmaid dress, walking down the aisle behind a beautiful bride. The one wedding she'd really like to attend is her own mum and dad's. But as that's never going to happen, it's time for Tilly to make her own dream come true – and put her bridesmaid services up for hire . . .
Katy by Jacqueline Wilson
Fans of Tracy Beaker will love this book! Inspired by the classic novel, What Katy Did, Jacqueline Wilson creates an irresistible modern version for the twenty-first-century. Katy Carr is a lively daredevil and the oldest sister in a big family. She loves messing around outdoors, climbing on the garage roof, or up a tree, cycling, skateboarding, swinging . . . But her life changes in dramatic and unexpected ways after a serious accident.
Little Stars: A Hetty Feather Adventure
Hetty Feather has begun a new chapter in her life story. Escaping from Tanglefield's Travelling Circus with her dearest friend Diamond, Hetty is determined to find them positions as glamorous music hall artistes. Hetty and Diamond quickly become the Little Stars of Mrs Ruby's show, alongside many colourful acts – including an old friend from Hetty's past, Flirty Bertie. But the Cavalcade proves a dangerous place, and Hetty must fight to protect her darling Diamond, who longs for a normal childhood. Meanwhile, Hetty struggles to understand her feelings for Bertie – and for Jem, whom she has never forgotten. Hetty dreams of a glittering future for herself and Diamond. The bright lights of the London theatre world beckon – will Hetty become a true star?
Clover Moon by Jacqueline Wilson
Coming to Shrewsbury Library soon!